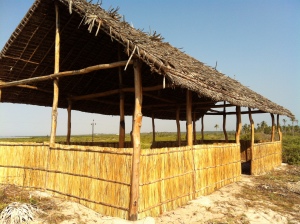 2012 I built 3 houses before coming back to the USA.  They were not finished yet and served as temporary houses for visitors and my Mozambican guest.  Our plans are to provide housing for you when you come to visit and minister to our friends and family.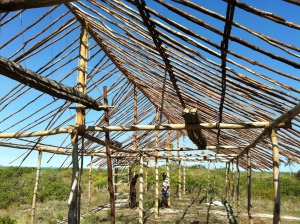 Although they were simple construction the labor, materials and transport of the materials totals about $3000.00usd each.  Just received word today that this house was destroyed by the recent wind and rain storms affecting our area.  The house is a total loss.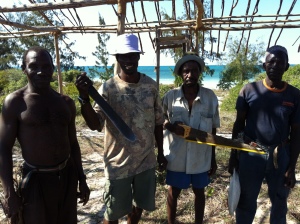 Also… my head manager and care taker of all my belongings in Mozambique… 2nd from the left in the above photo, lost a boat filled with new material to reconstruct his own house.  He lost 2 months of salary when the boat sunk carrying the material to refurbish his house.
You will not have to fight this battle.  Take up your positions; stand firm and see the deliverance the Lord will give you, Judah and Jerusalem.  Do not be afraid; do not be discouraged.  Go out to face them tomorrow, and the Lord will be with you.  (2 Chornicles 20:17)
Kent and Andrea